BIOT WRNS 100 Stamp Issue 28.11.17
On 28 November 2017, the British Indian Ocean Territory Administration is releasing a set of three se-tenant pairs of stamps and a first day cover celebrating the centenary of the formation of the Women's Royal Naval Service.
The stamps feature women in the Royal Navy today juxtaposed against WRENS throughout the last century:
First pair: modern day mine clearance diver and WWI Wrens working on a lathe.
Second pair: modern day ops room warfare specialist and WWII boat crew.
Third pair: modern day (first) female submariners and 1970s radar plotter.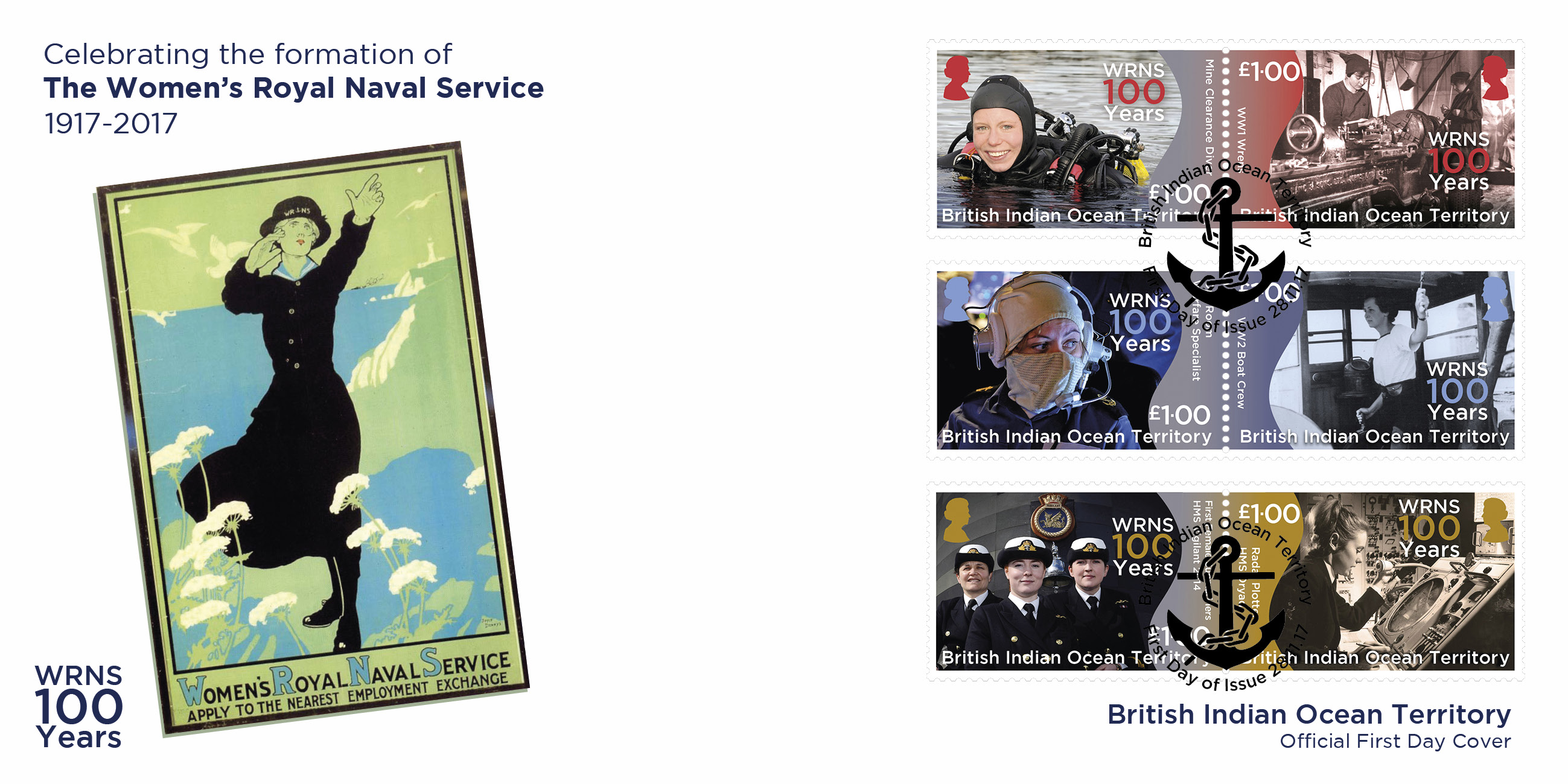 You can buy these stamps and their First Day Covers online from the BIOT Post Office, or from the Stanley Gibbons stamp shop on the Strand in London:
http://www.biotpostoffice.com/index.asp
The Women's Royal Naval Service (WRNS, also known as the Wrens) was the women's branch of the Royal Navy. Before the start of the First World War, the Suffragette movement had been lobbying the government for greater powers for women, but it was only as the war progressed that the role of women changed. By 1917 the Royal Navy was faced with a deteriorating manpower situation and so the WRNS was formed; every woman was a volunteer. It was disbanded in 1919, then revived in 1939 at the beginning of the Second World War, remaining active until integrated into the Royal Navy in 1993. Roles that women in the WRNS undertook included cooks, clerks, wireless telegraphists, radar plotters, weapons analysts, range assessors, electricians and air mechanics.
Today women can serve in the Royal Navy in any role, including the Submarine Service.  Following the Government's recent announcement that women may now serve in ground close combat roles, including the Royal Marines Commandos, the Royal Navy is preparing for this historic change in 2018.
For a fuller history on the WRNS have a look at this leaflet: http://www.wrns100.co.uk/WRNS%20100%20leaflet.pdf
WRNS100: http://www.wrns100.co.uk/
Association of WRENS: http://www.wrens.org.uk/
Royal Navy: https://www.royalnavy.mod.uk/