Lizards of BIOT Stamp Issue 14.10.19
On 14th October 2019, the British Indian Ocean Territory Administration released a set of three stamps and First Day Cover featuring species of lizard, which, although all not native to BIOT, are prolific in the Territory.
House Gecko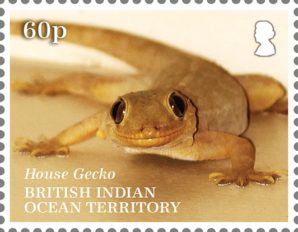 The House Gecko is so called because it is commonly seen on the walls of buildings at night, attracted to light sources where it can hunt for invertebrates, which make up the bulk of its diet. This species of Gecko is native to South-East Asia but found throughout the tropics and sub-tropics. It can grow to a length of 75-150mm. It has a series of recognisable communication calls, and in many languages it has been given an onomatopoeic name based on the sound that it makes; for example, in English its call is interpreted as "gecko-gecko", in Malay "chi-chak", and in Thai "jing-jok".
Mourning Gecko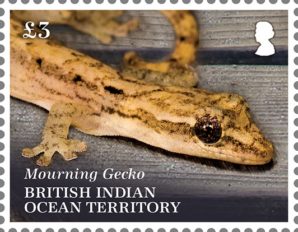 Growing to around 100mm in length, this species of Gecko is found in coastal areas of the Indian and Pacific Ocean. Its diet consists of insects and flower nectar. Like the House Gecko, it is nocturnal and frequently seen around buildings. An interesting feature of the Mourning Gecko is that the species thought to be entirely female: offspring are produced through a form of asexual reproduction called parthenogenesis, where development of an embryo takes place without fertilisation.
Agamid Lizard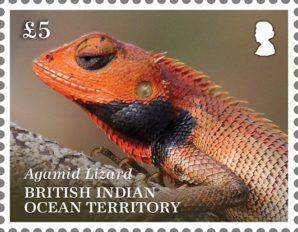 Also known as the Oriental Garden Lizard or Changeable Lizard, these diurnal lizards are native to the warm climates of Africa, Asia and Australia. They are mostly insectivorous and can grow up to 370mm in length, including the tail, with a body of about 100mm in length. Sharing similar characteristics with iguanas, they have scaly bodies, a dorsal crest of spines, and powerful hind legs, and their ability to change colour enables them to regulate their body temperature. Colour change is also exhibited in signalling and reproductive behaviour.
Further information about BIOT stamps and how to purchase them can be found here.