Remembrance Day 2019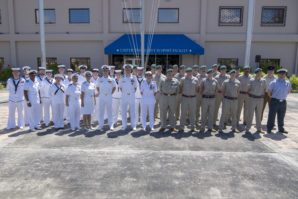 The 11th of November marks the anniversary of the armistice which ended the First World War, on the same day in 1918. Today the United Kingdom, Commonwealth nations and our partners around the world will honour the sacrifices of those who gave their lives in that terrible war and other conflicts since.
As part of these commemorations Cdr. Kay Burbidge RN, Commissioner's Representative and Commander British Forces in BIOT, has laid a wreath at the small War Graves cemetery on Diego Garcia bearing the following message from Commissioner Ben Merrick:
"In memory of all service personnel who have suffered and made the ultimate sacrifice in time of conflict. Our particular thoughts for those who had served on or were connected to BIOT."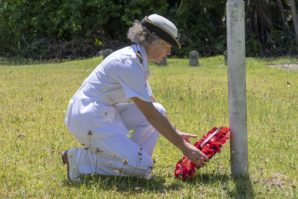 BIOT in the World Wars
Due to the lack of radio communication links with Britain, it took months for the small garrison in Diego Garcia to receive notification that the First World War had commenced. They were certainly unaware of it when, on the 5th of October 1914, the German raider ship SMS Emden pulled in to the island. The ship remained there for a week for repairs and to restock on coal, and then departed to continue its attacks on other vessels.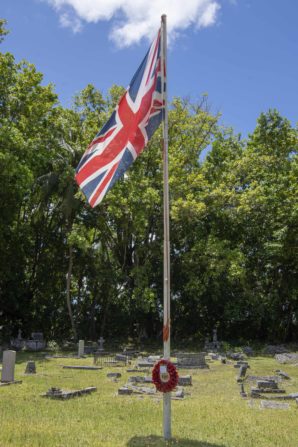 In 1942, the British opened RAF Station Diego Garcia and established an advanced flying boat unit at the East Point Plantation. Both Catalina and Sunderland aircraft were flown during the course of World War II in search of Japanese and German submarines and surface raiders. The wreck of a Catalina, nicknamed Katie, still sits on the edge of the plantation, near where it washed ashore during a storm in 1944. Two 6-inch naval guns were also installed at Cannon Point to defend the island, manned by Mauritian and Indian troops. Nine members of these units are buried in a Commonwealth war graves cemetery at Pointe Marianne on Diego Garcia.