Tackling Plastic Pollution
Plastic: We have all seen shocking images like that of a diver in Bali swimming in an ocean of plastic or those of animals being entangled by plastic waste.
But just how much of a problem is plastic globally?
Plastic is cheap, strong, durable and mouldable but such qualities bring environmental destruction. The countless different items, many single-use, that are produced from plastic are leaving a huge contamination legacy, particularly in our oceans, which is getting worse by the day.
According to a report by the Ellen MacArthur Foundation, at least 8 million tonnes of plastics gets dumped in or finds its way to the ocean each year. If no action is taken, research shows that by 2050 there could be more plastic (by weight) in the ocean than fish, as production of plastic dramatically increases year on year.
The most common items of plastic pollution around the world are: plastic bottles, fishing gear, plastic bags, cigarette butts, plastic straws, plastic lids and food wrappers. But the problem goes deeper than these items: even washing your clothes causes plastic pollution as microscopic fibres from every wash end up in our oceans. In the British Indian Ocean Territory we see first-hand the huge scale of this problem, with masses of plastic from across the Indian Ocean and beyond being washed up on the beaches of BIOT's remote islands. The most common items you find washed up on BIOT's beaches are: flip flops; fishing gear; plastic bottles and polystyrene.
Combating this problem is imperative for us all and there are many things we can do to help resolve this problem, even if it might only seem like a small contribution. On Diego Garcia, the only inhabited island in the Territory, a number of new initiatives have already been introduced to help with the footprint of those on island:
A new water treatment works, making tap water drinkable for the first time and ­reducing the need for bottled water.
Straws are now only available on request in restaurants/bars and will be phased out along with single use plastic ware that can be purchased in the store. They will be replaced by biodegradable plastics, paper and wooden products.
The use of reusable water bottles and Tupperware is encouraged.
Other initiatives in the works include:
Styrofoam takeaway cartons will be replaced by cardboard boxing for food.
Plastic bags for loose groceries and takeaways will be replaced with paper bags.
Beach clean-ups have been undertaken on Diego Garcia for many years now, in an attempt to reduce the amount of waste washed in from other countries. This is extremely important for the Territory, particularly given the number of nesting turtles (plastic waste can entangle them on the beaches and impact nesting success) and also nesting seabirds (which can feed on plastic). We are looking at increasing the number of beach clean-ups through introducing an adopt-a-beach scheme for military personnel and contractors based in the Territory.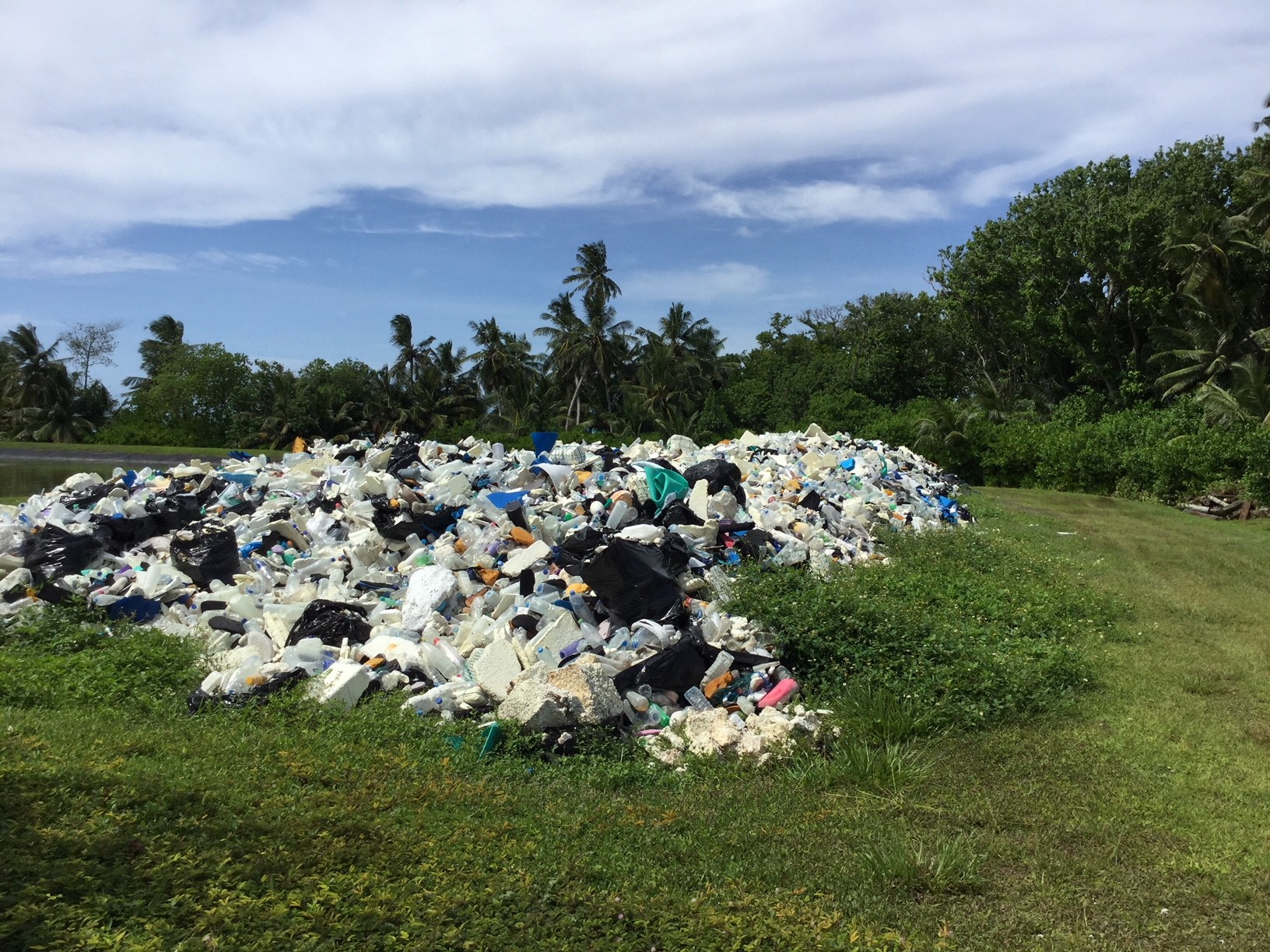 Mound of waste collected from one of the many beach clean-ups.
We hope that you will join in with us in reducing your plastic footprint too.
Useful links: