Mooring Site Plots
Please click on each image below to see the full size version.
Strict Nature Reserves – Out of Bounds
A reminder that it is forbidden for any person to approach within 3 nautical miles, land on or anchor at the Strict Nature Reserves. The following islands are strict nature reserves:
Great Chagos Bank:
The Three Brothers and Resurgent Islands (6º09'-4S 71º31'-4E).
Eagle Island (6º12'-0S 71º19'-0E) and Cow Island (6º14'-1S 71º17'-7E).
Danger Island (6º23'-3S 71º14'-4E) and the drying coral reef (6º27'-3S 71º14'-5E).
Nelson's Island (5º40'-9S 72º19'-0E).
Or to enter the following area within the Peros Banhos Atoll:
All territorial sea, internal water, land and inter-tidal of Peros Banhos (5º20'-5S 71º51'-0E) to the east of a line between the eastern extremities of Moresby Island and Fouquet Island and extended on the same azimuth to the territorial sea limit.
Diego Garcia – Out of Bounds
Unauthorised vessels or persons are not permitted to access this island and no unauthorised vessel is permitted to approach within 3 nautical miles.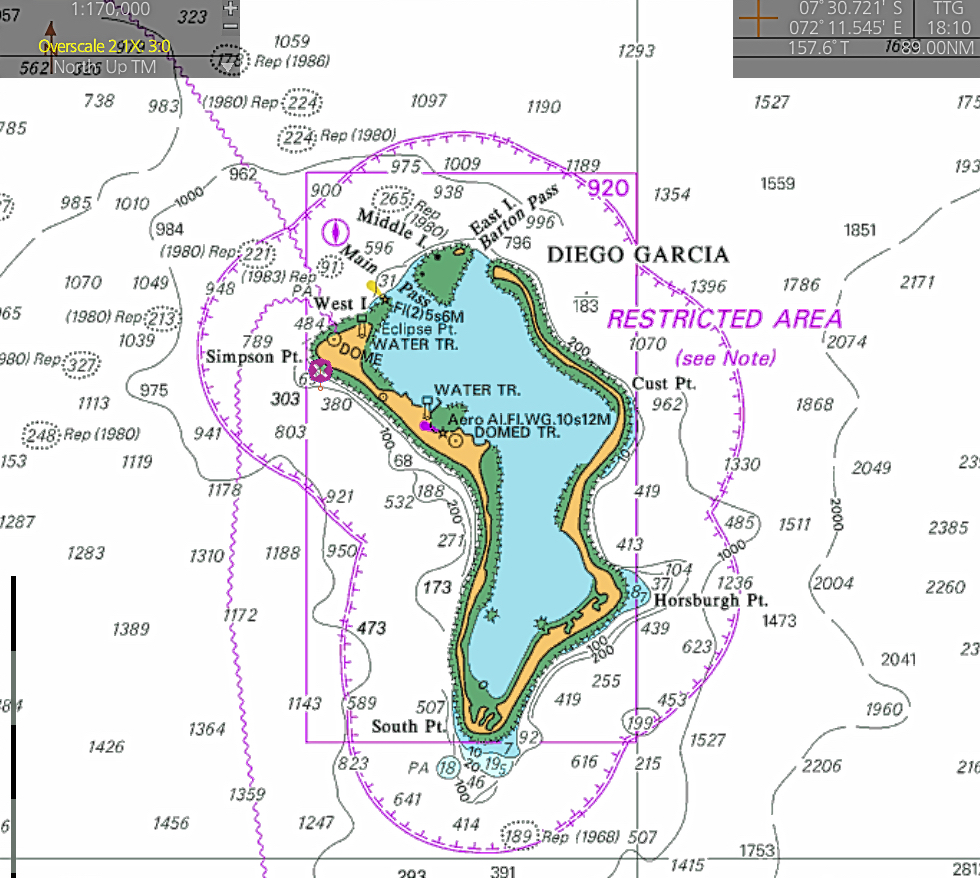 The following plots show where the permitted mooring sites are in BIOT.
Salomons

Salomon, Ile Boddam
Southwest of a line between Iles Diable & Poule
W (Diable) 5°S 21.05 / 72°E 12.51
E (Poule) 5°S 21.45 / 72°E 13.17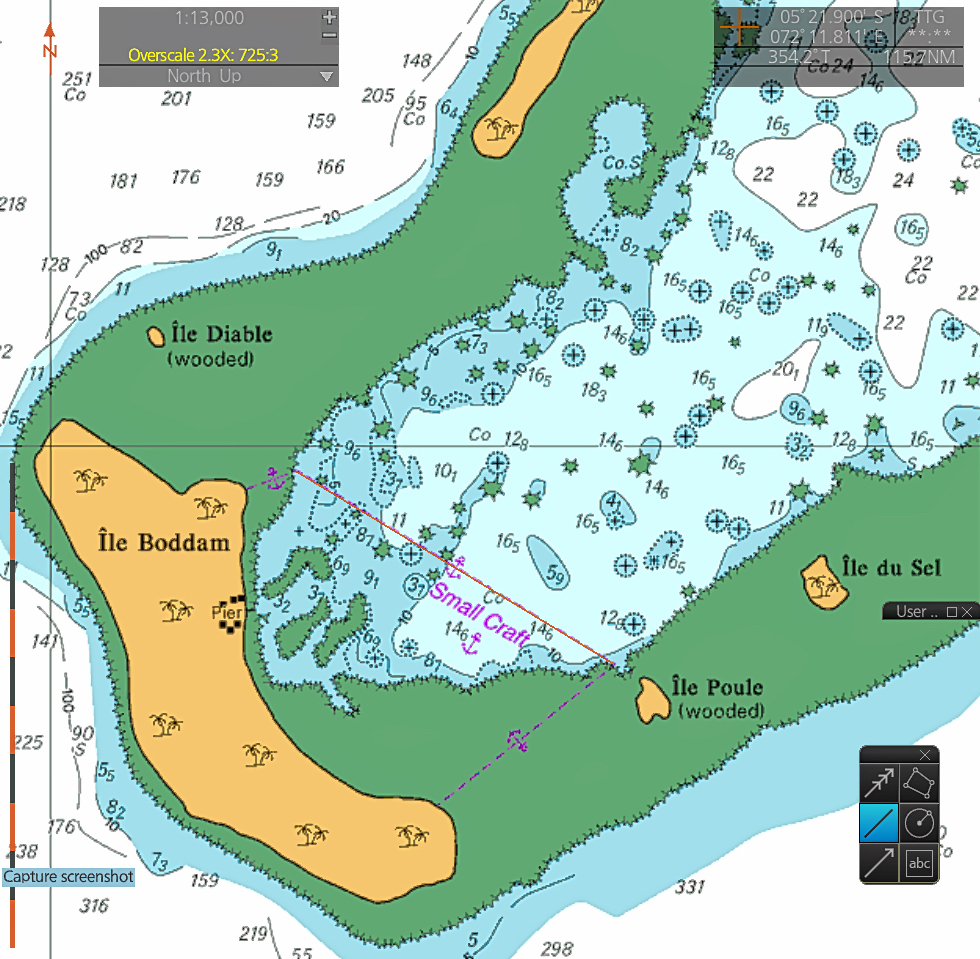 Salomon, Ile Fouquet & Ile Takamaka
Southeast of a line from mid Takamaka to the SE tip of Fouquet
N (Takamaka) 5°S 19.73 / 72°E 15.94
S (Fouquet) 5°S 20.64 / 72°E 15.40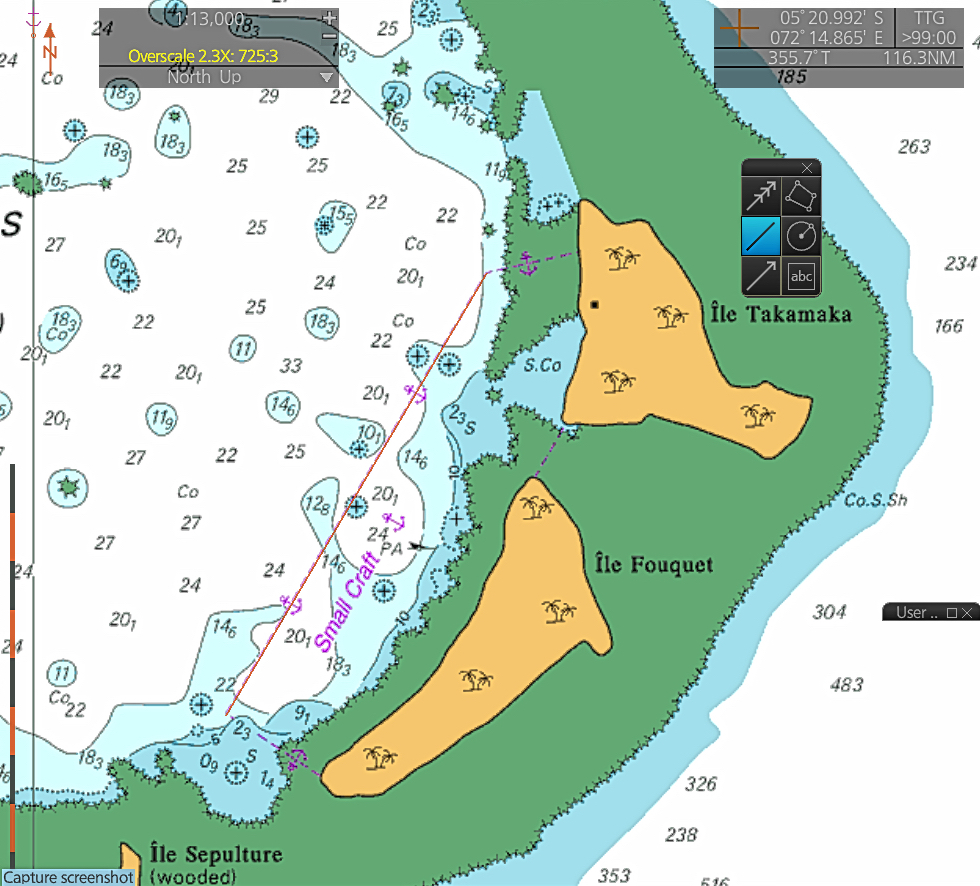 Peros Banhos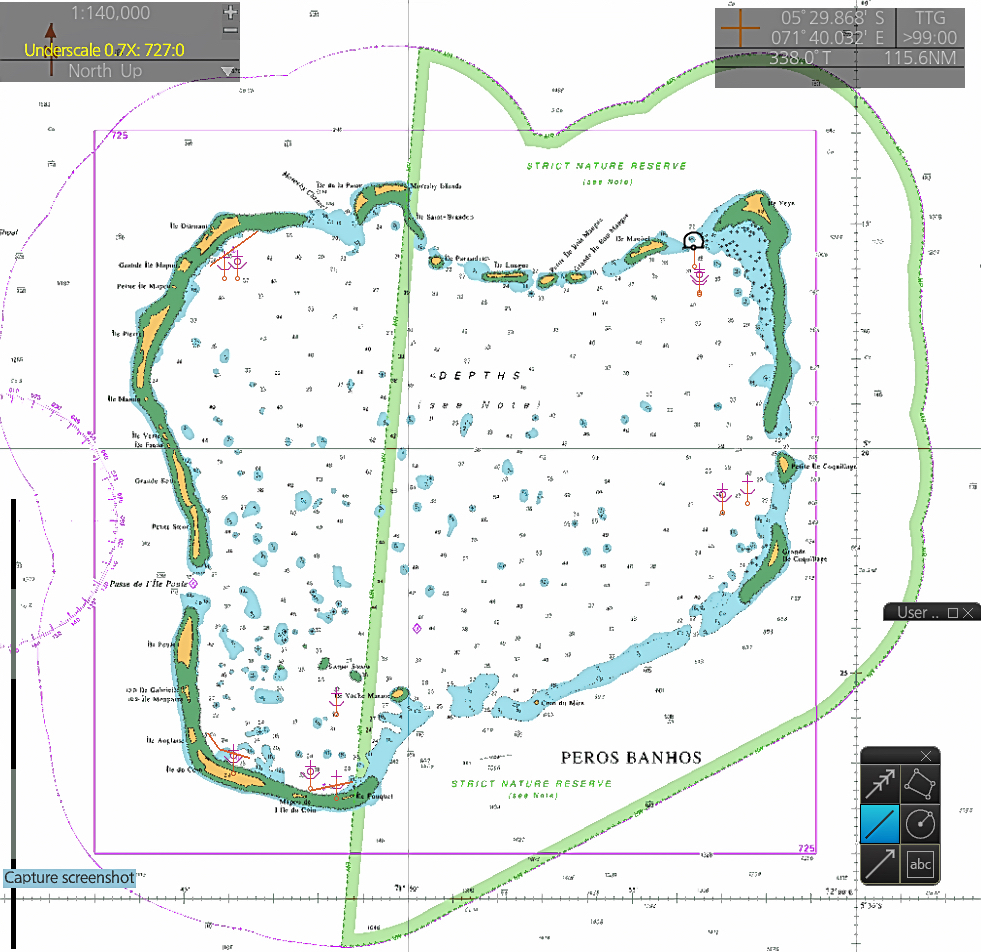 Peros Banhos (West)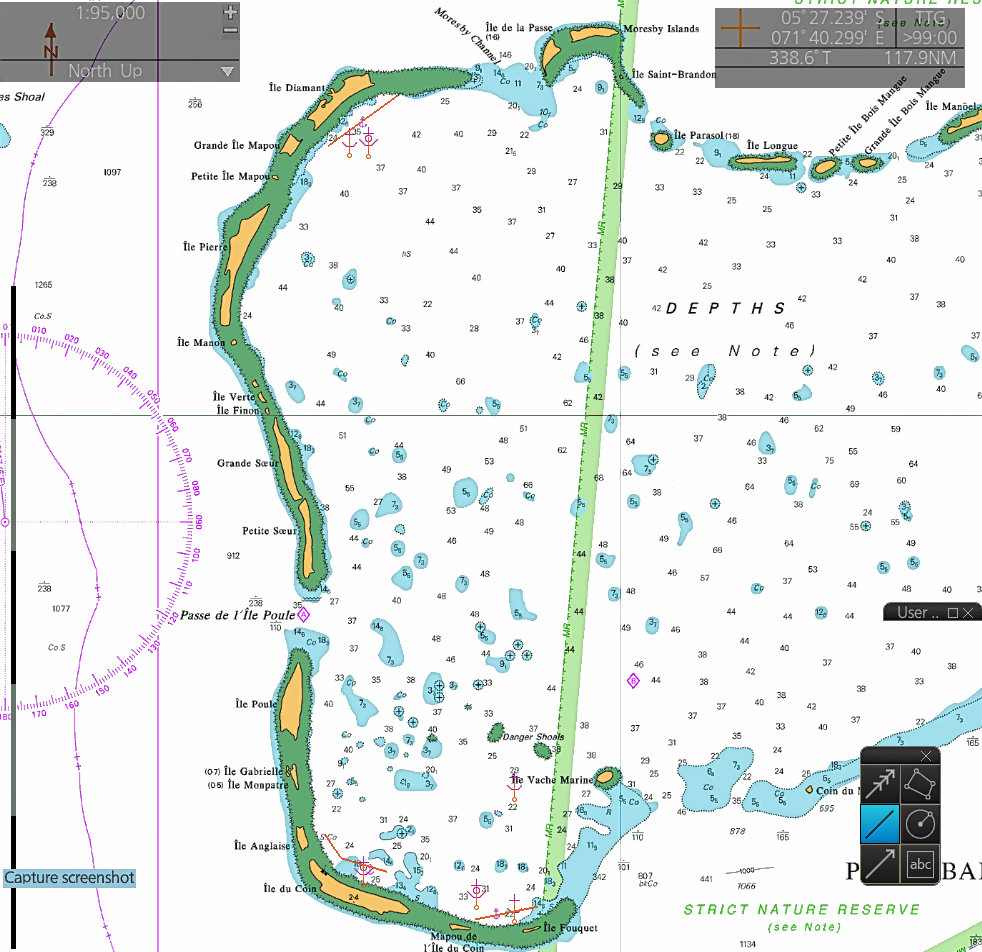 Peros Banhos, Ile Diamante
Northwest of a line stretching roughly the full length of Diamante
N (Diamante) 5°S 15.17 / 71°E 46.63
S (Diamante) 5°S 15.94 / 71°E 45.56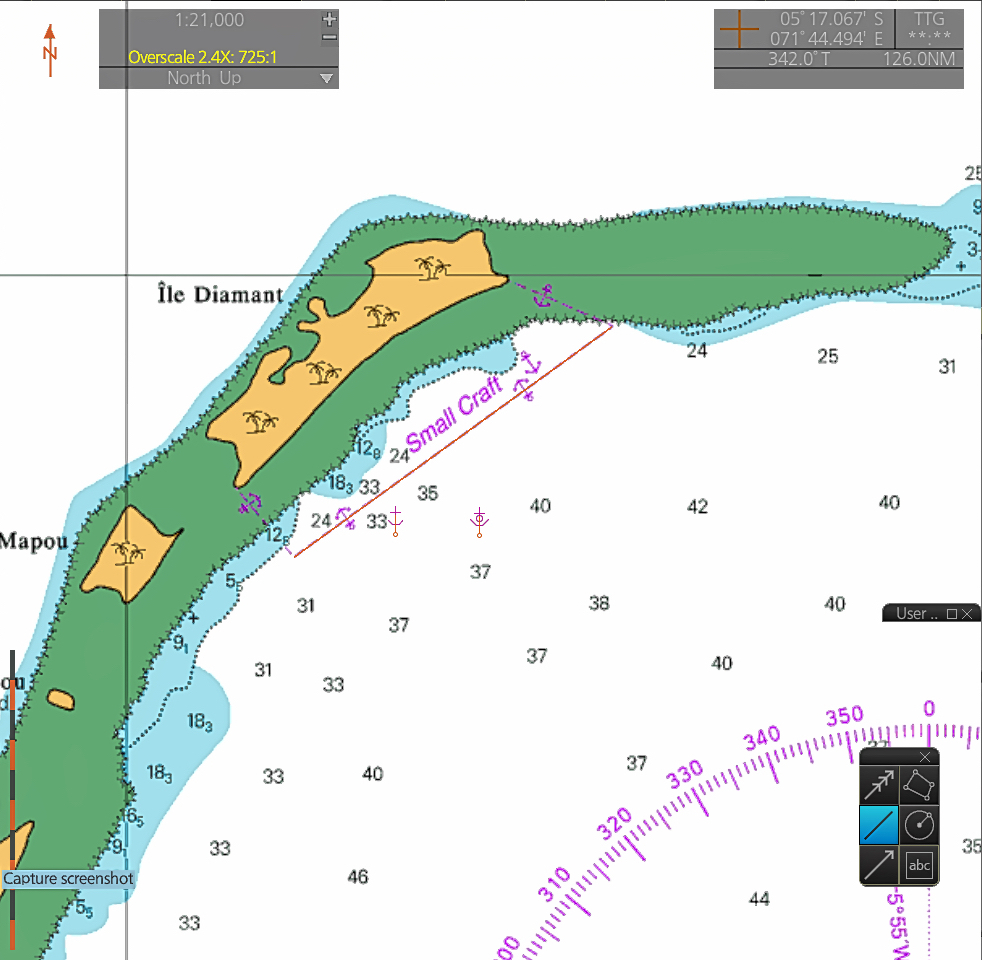 Peros Banhos, Ile du Coin
Southwest of a line from mid Anglais to two-thirds down Ile du Coin
N (Anglais) 5°S 26.30 / 71°E 45.52
Mid (Ile Coin) 5°S 26.67 / 71°E 45.76
S (Ile Coin) 5°S 26.87 / 71°E 46.46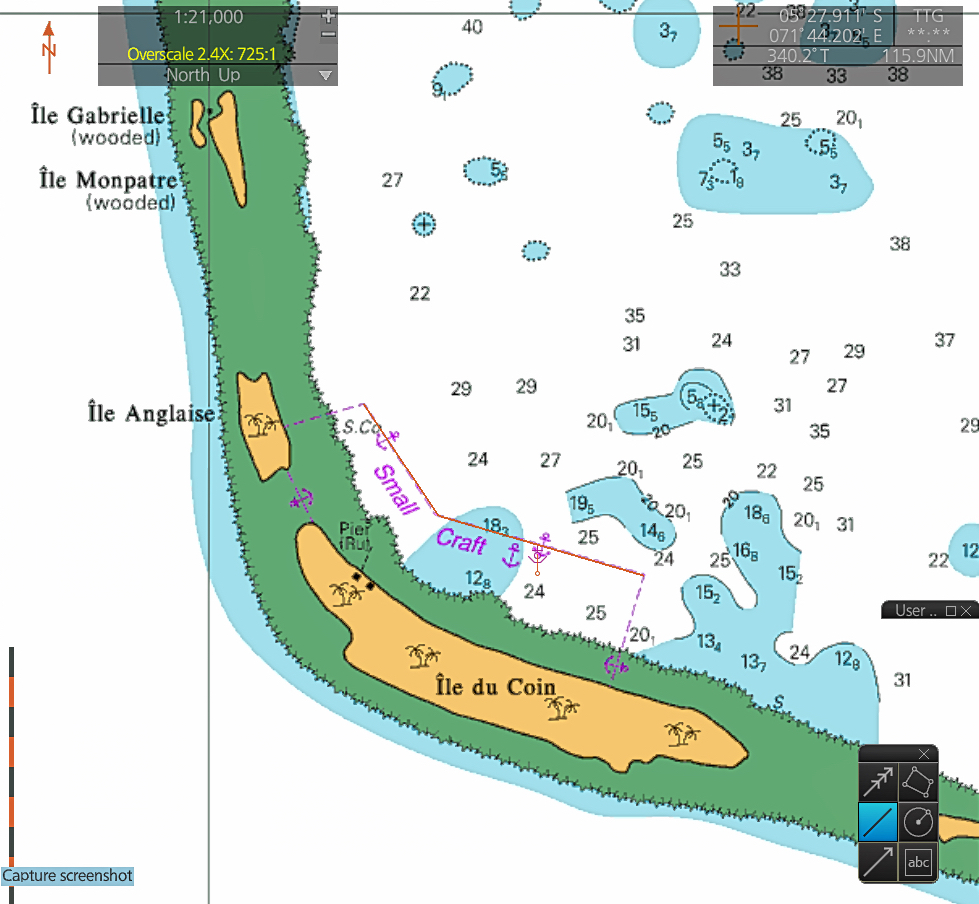 Peros Banhos, Fouquet
South of a line from mid Mapou du Coin to East end of Fouquet
Outer W 5°S 27.60 / 71°E 47.79
Outer E 5°S 27.40 / 71°E 48.75