Terrestrial Protected Areas
In recognition of the unique terrestrial habitats and species in BIOT and to provide protection to internationally important breeding seabird populations, there are a number of Terrestrial Protected Area designations across the British Indian Ocean Territory.
Diego Garcia Restricted Area
To protect the biodiversity of Diego Garcia effectively, the Diego Garcia Conservation (Restricted Area) Ordinance 1994 prohibits entry to all environmentally sensitive areas, unless a permit to undertake a specific activity has been granted. Recreational fishing and other potentially damaging activities are not permitted in the Restricted Area. Any infringement may carry a maximum fine of £500.
Map of the Restricted Area (shaded red)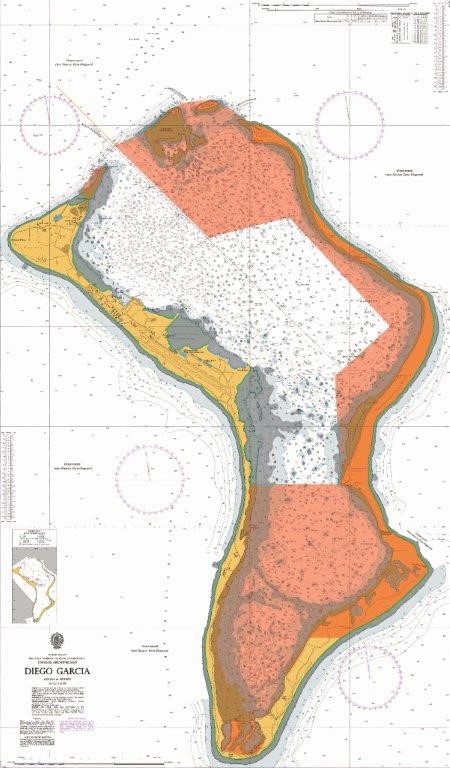 Ramsar site
In 2001, the provisions of the Ramsar Convention were extended to a large part of the island of Diego Garcia, in recognition of the international importance of the wetland habitats on and around the atoll. The Diego Garcia Ramsar site provides a habitat for marine flora and fauna at a critical stage of their biological cycle including the endemic coral Ctenella chagius and the threatened Hawksbill and Green Turtles, Eretmochelys imbricata and Chelonia mydas. The site is also important for some of the 18 species of seabirds which breed in BIOT in internationally important numbers.
Important Bird Areas and Strict Nature Reserves
BIOT has 10 Important Bird Areas (IBAs), identified due to the presence of globally significant breeding concentrations of seabirds. The IBAs cover approximately 15% of the land area of the Chagos Archipelago and are also designated as Strict Nature Reserves to prevent any human disturbance. IBAs are designated on each of the Three Brothers Islands, Danger Island, Cow Island, Nelson Island, Petite Ile Bois Mangue, Ile Parasol, Ile Longue and at Barton Point on Diego Garcia.
Strict Nature Reserves
The Strict Nature Reserve Regulations 1998 provide the IBAs with legal protection. Under these Regulations, it is an offence for anyone to enter any of the Reserves, or to carry out particular activities there, without the written permission of the BIOT Administration.