7 June Seabirds and Turtles Exped
Read the full report here: BIOT Seabird & Sea Turtle research expedition report June-July 2019 (PDF)
This scientific expedition to Diego Garcia and remote islands of the British Indian Ocean Territory (BIOT) from 18 June to 16 July 2019 successfully brought together a research team of seabird and sea turtle scientists for the first collaborative expedition to an outer island.
A seabird research team of two from The Zoological Society of London, as part of the Bertarelli Programme of Marine Science, visited BIOT, for their third outer island science expedition. The team spent 10 days on Nelson's Island and were accompanied by two turtle research biologists from Swansea University, UK and Deakin University, Australia. The team were deployed by the crew of the BPV and recovered by the BPV and British Forces BIOT. The seabird team deployed 31 sets of short-term tracking devices on breeding red-footed boobies and recovered 29. In addition, feather samples were collected for sex determination in the lab, and an acoustic survey was conducted to test the potential for acoustic recording devices to determine the distribution of wedge-tailed shearwater colonies on Nelson's Island.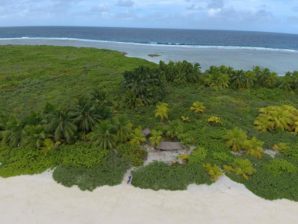 The turtle research team were able to build on previous conservation research on the ecology of hawksbill and green turtles in the archipelago. The team gave a public talk about sea turtles in BIOT to over 70 people with a volunteer sign up. On Diego Garcia: the turtle team was assisted by 48 volunteers to recapture and maintain satellite tags for 4 immature turtles in Turtle Cove; conduct drone surveys of the lagoon to improve estimates of in-water turtle populations; conduct nesting activity surveys and download images from 14 remote cameras on the Index beach. The team excavated (and re-buried) temperature loggers deployed for 12 months at turtle nest depths. On Nelson's Island: the team patrolled beaches nightly and deployed a satellite tag on a green turtle for the first time on an outer island. Surveys of turtle nesting activities took place daily; drone surveys were conducted on 3 days to estimate inwater turtle population; and 9 remote cameras were installed to record nesting activities over the next 6 months. During a visit to Peros Banhos, the team opportunistically serviced 9 cameras set up on 5 islands in March 2019.
The preliminary findings from the seabird research team indicate that (i) breeding red-footed boobies were foraging further to the east and conducting multi-day trips compared to the same period in 2018, (ii) the island supports a significant multi-species seabird breeding colony, and (iii) acoustic recording devises can potentially detect shearwater colonies. Preliminary findings from the sea turtle team include (i) southwesterly migration outside of BIOT by green turtle satellite tagged on Nelson's Island, and (ii) high variability in interannual nesting activities on Diego Garcia and Nelson's Island.